Stained Glass
2020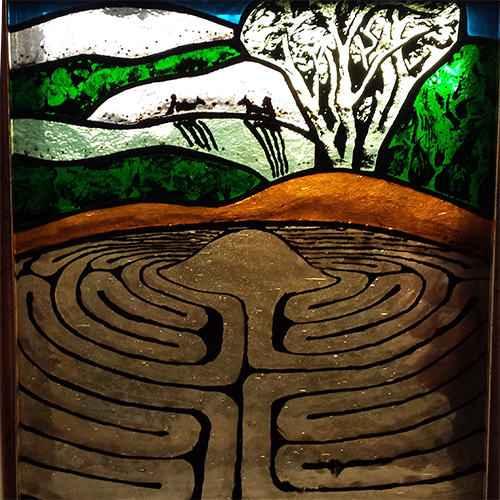 Heigh ho, lockdown, and a bit of stained glass.
Glow in the dark Fimo
2020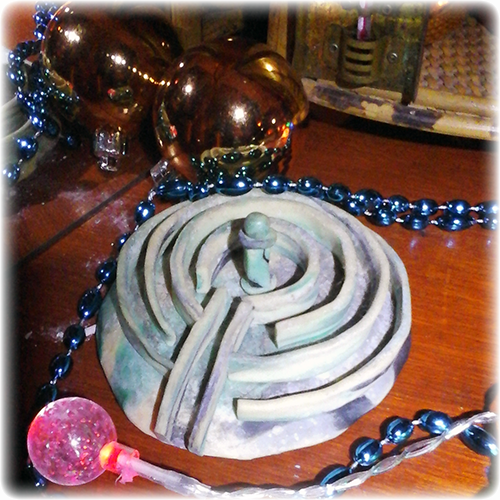 Another lockdown distraction - a little labyrinth ornament for by the bed, made in glow-in-the-dark-pseudo-marble Fimo.
Finger labyrinth
2019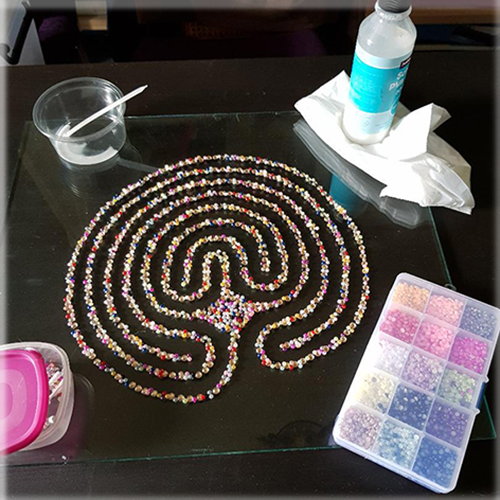 Finger labyrinth on glass for window installation, using simple craft shop materials. How to clean it is another matter...
Sand, Tentsmuir
2019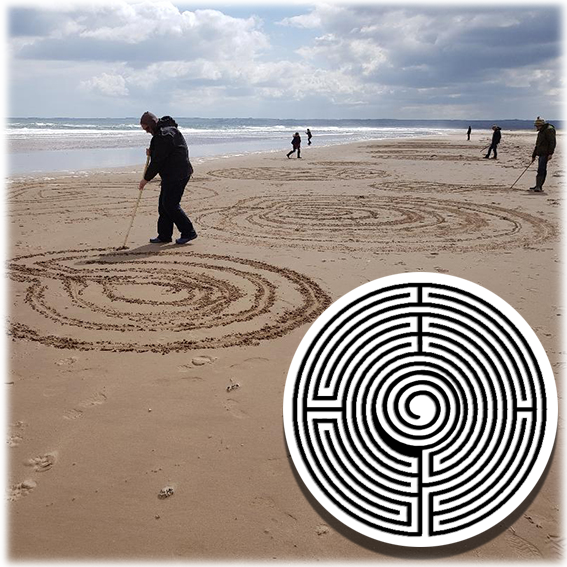 World Labyrinth Day 2019 and we're labyrinthizing Tentsmuir Beach. All with different designs; the sea swept over my Boughton Green with me in it in one gulp.
Spoons, Kirkcaldy
2018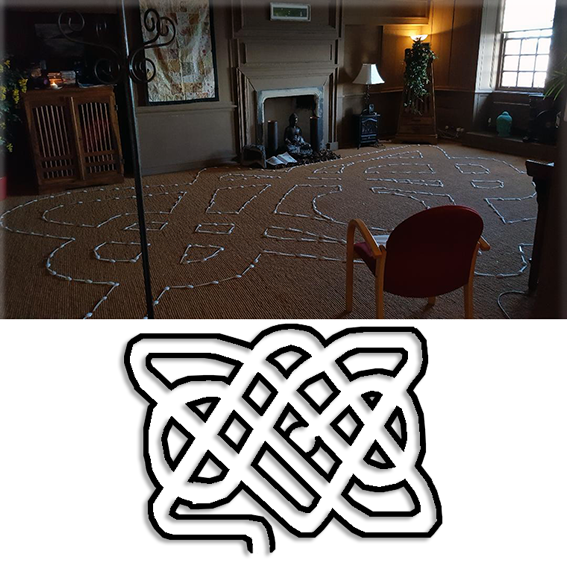 A Midwinter labyrinth on the warped floors of the 16th Century Merchant's House. Ghosts complimentary.
Turf, Lindores Abbey
2018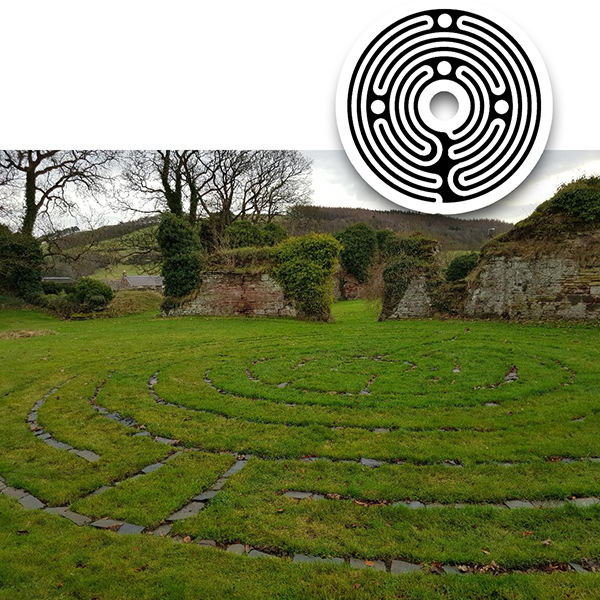 Built by Valerie and the local community to my design, in the ruined nave. Check out the Distillery next door if you go.
Spoons, Strathmiglo
2018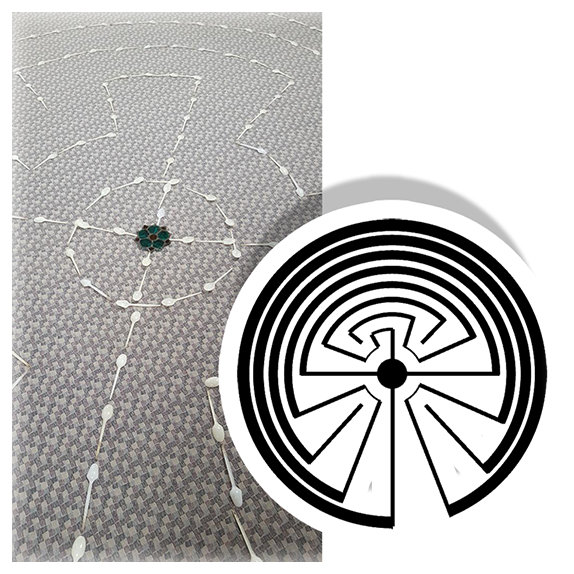 A Native American labyrinth mapped out with cheap plastic spoons at the WestBank Centre. But did it work!
Paper Goal Labyrinth
2017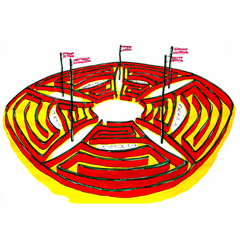 We do these at workshops: draw your labyrinth, write or draw in the things you want to come to you, and walk with finger/eye to keep your subconscious primed for openings.
Spoons, St Andrews
2017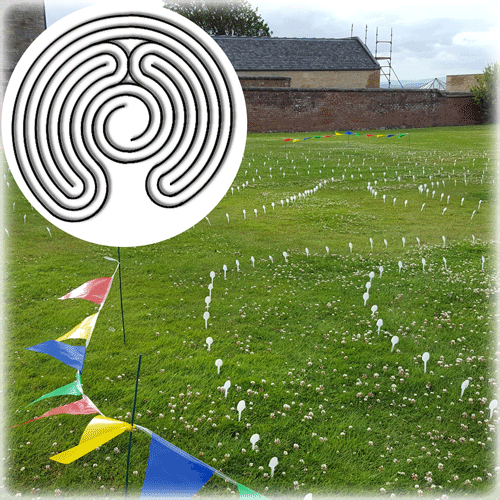 University commissioned, full of Angelic energy and a sea-wind to blow cobwebs and hairdos away. Instead of calm, we shot from this one keen for action...
Tape, Kirkcaldy
2017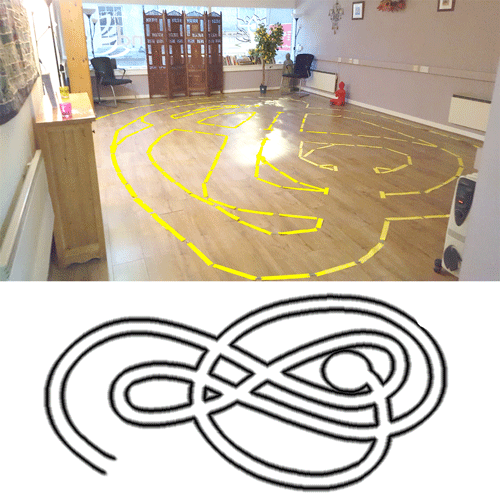 An Infinity Knot II that participants could be led blindfolded through by their partner, for a Life Labyrinths workshop.
Tape, Angus
2017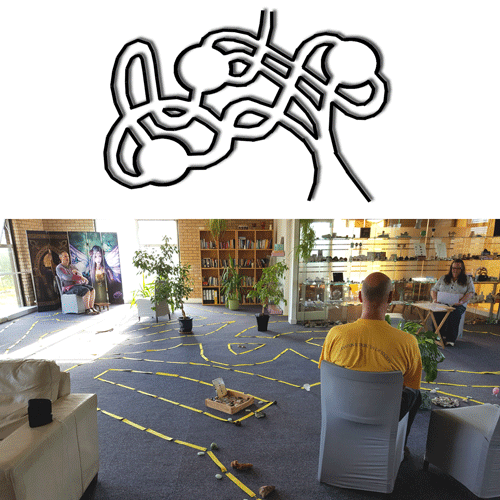 A Tree of Life maze whose three centres were used for Starseed connectivity, at the Love and Above Centre.
Spoons, St Andrews
2017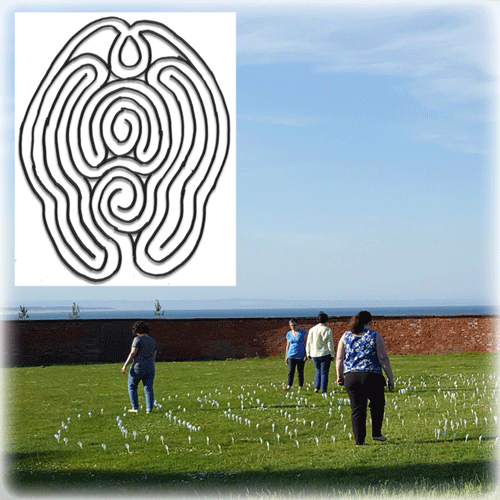 Another University commission, on a hot hot day in the huge walled Spanish Garden by the sea we walked this monster of a calm-trap.
Tape, Dundee
2017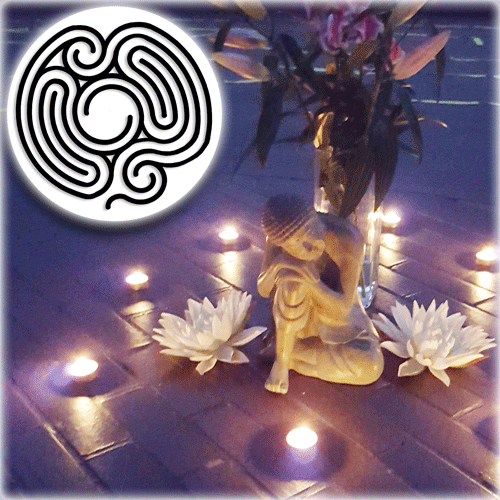 For the final MusicDance Labyrinth, a swirl of eddies and spirals. Farewell and thanks, MusicDance and all who came to the gatherings :-)
Sheet, Kirkcaldy
2017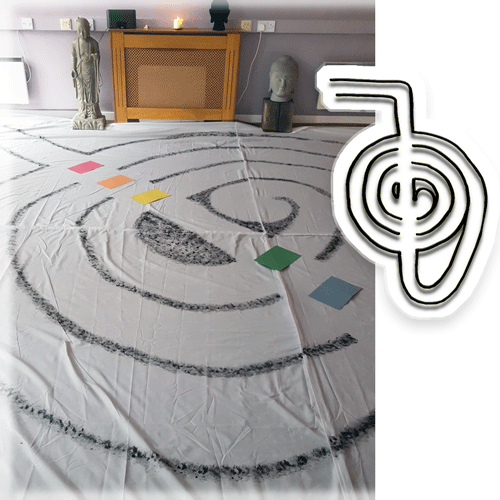 Your own private labyrinth can be cheap. Four king size sheets, velcro, paint. This one was used to allow walking whilst being reikied by the group.
Tape, Dundee
2016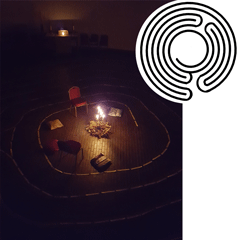 A MusicDance pattern for drumming in and and journeying with the winter spirits. This cheeky pattern one was a hoot.
Scoosh, Falkland
2016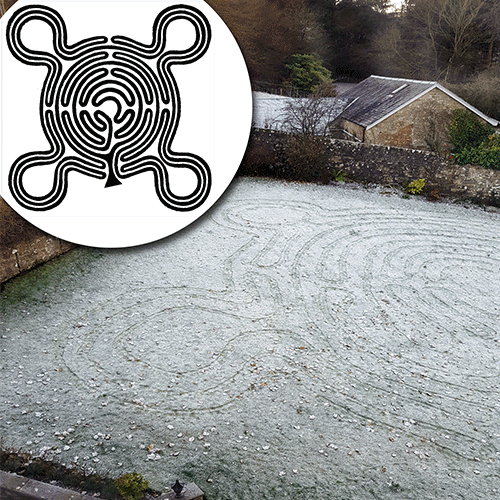 For this residential retreat I scooshed along in the frost to create the Sneinton/Robin Hood's Race. We walked it by star- and candlelight; next day the frost left and the path remained...
Fun Foam Finger Labyrinths
2016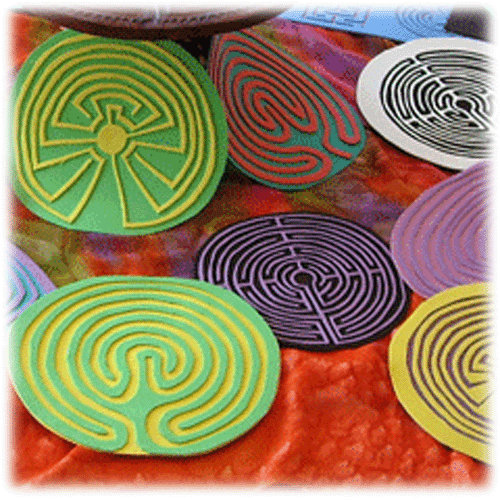 Drop a few jaws at the next church vigil. Buy A3 craft foam sheets, cut your labyrinth in one, glue it to another. Ensure the colours clash. We want gums to bleed here.
Spoons, Dundee
2016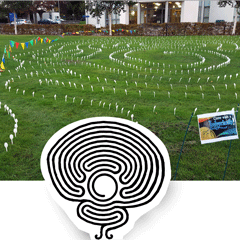 Commissioned by the University of Dundee for Mental Health Week, appearing at dawn and disappearing at dusk. A mystery mushroom of a maze.
Tape, Dundee
2016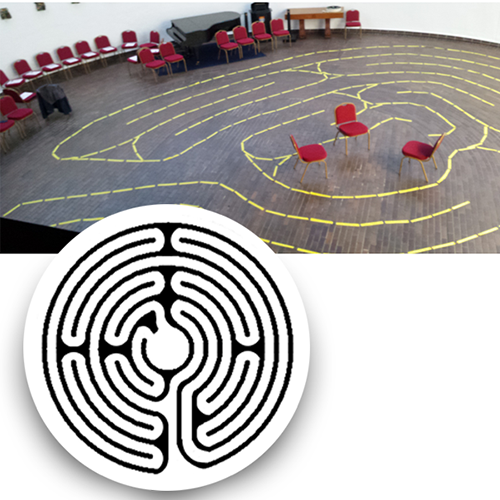 Another MusicDance, with an organic heart-shaped centre to draw in autumn's riches as dusk fell.
Tape, Kirkcaldy
2016
The versatile chakra-vyuha never fails; participants were led through blindfolded and always love its gentle coils.
Tape, Dundee
2016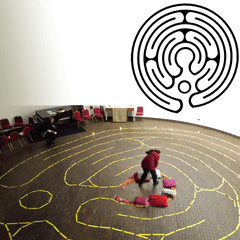 Wow there were a lot of MusicDance events that year! Drumming and dancing into enfolding Goddess love.
Plasticine Finger Labyrinth
2015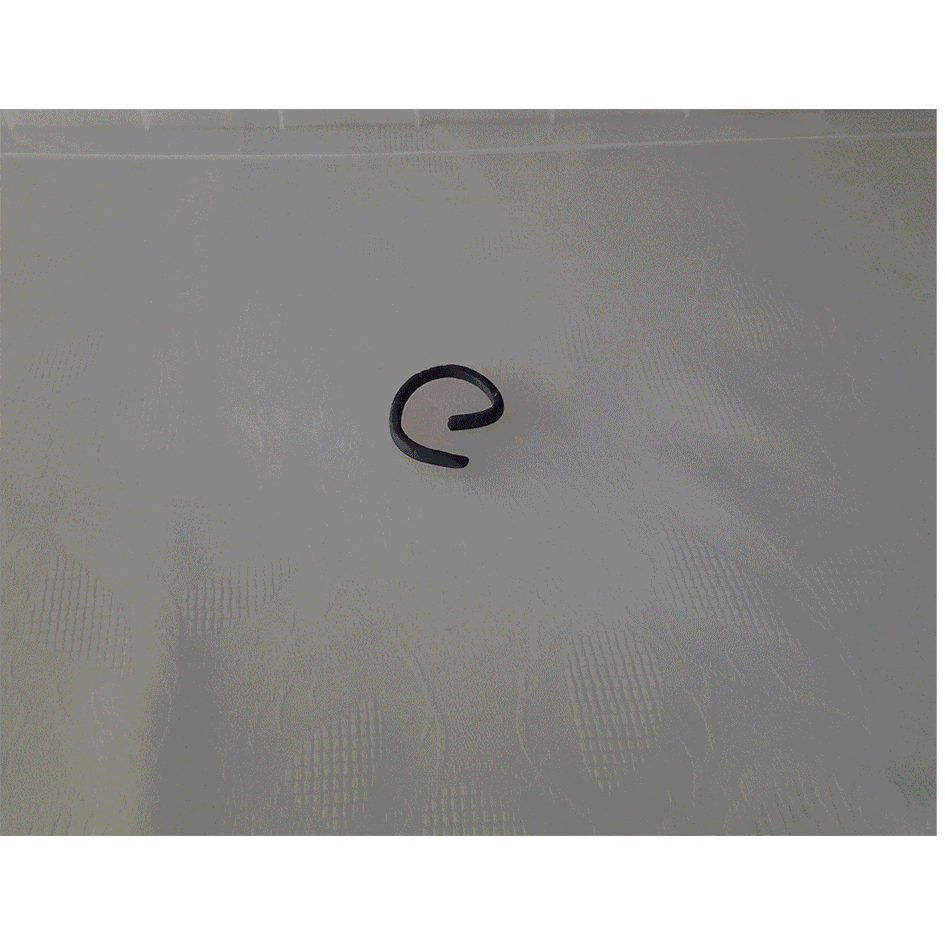 To find the finger labyrinth design(s) that feel best for your needs, test drive them using rolled plasticine for the walls on a smooth surface.
Tape, Dundee
2015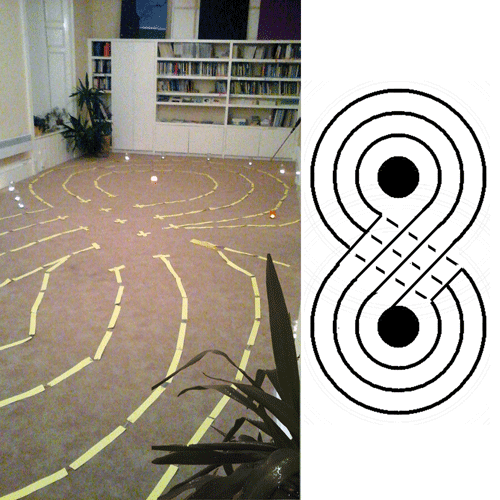 An Infinity Knot, for Samhain at the Dundee Pagan Moot. Open a door, and there was a labyrinth all to yourself! I like doors that do that.
Spoons, Falkand
2015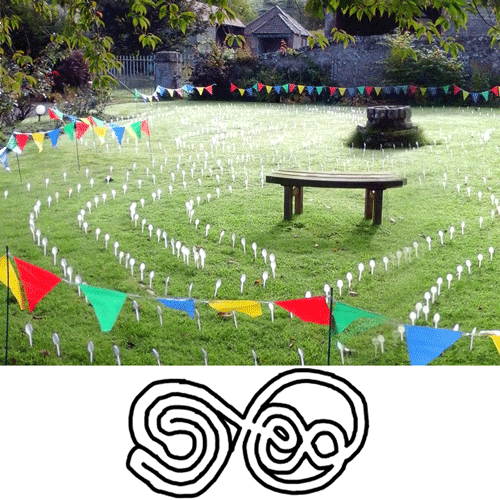 Building an extension wing onto the existing chakra-vyuha from 2012, under the watchful eye of the Lomond Hills.
Tape, Dundee
2015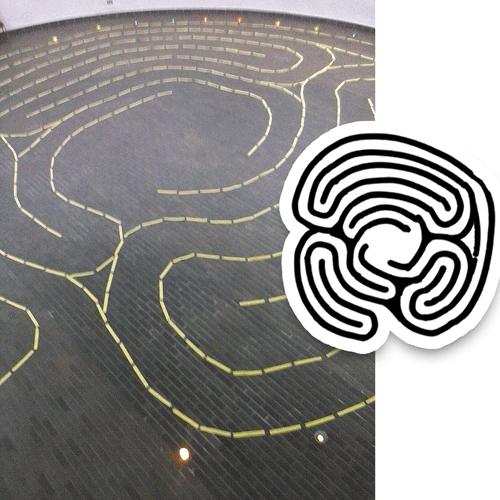 At MusicDance events you needed a pattern allowing flow and overtaking, within a limited space; this split cerebellum swirl did the job.
Labyrinth Shrine
2015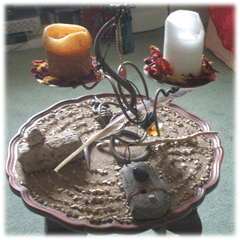 A labyrinth shrine for sending energy healing. Bit of a pain to dust though.
Sand Labyrinth, Tentsmuir
2015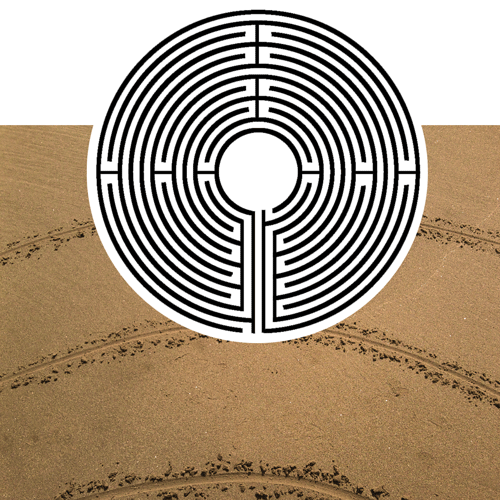 For a Midsummer MusicDance at Tentsmuir, a rebel Medieval was filled with many hopes and dreams for the sea to dissipate.
Tape, Dundee
2015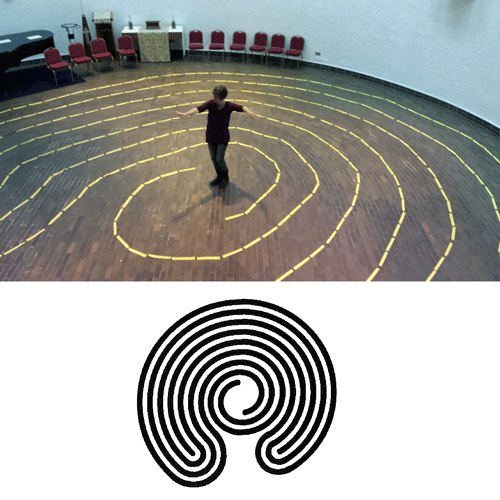 The first MusicDance! A simple Baltic pattern; long endless corridor coils, into another world.
Spoons/glowsticks, Kirkcaldy
2014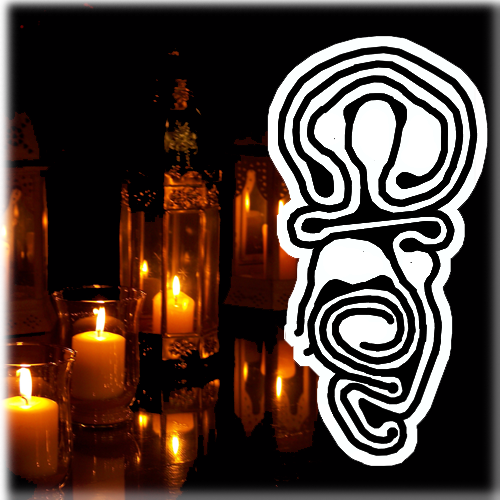 Howling winds and vertical rain - we certainly felt Midwinter! A nod to Mithras in an old farmland grove; LED tealights and glowsticks in the dark. No gallerys came out sadly.
Scoosh, Derbyshire
2014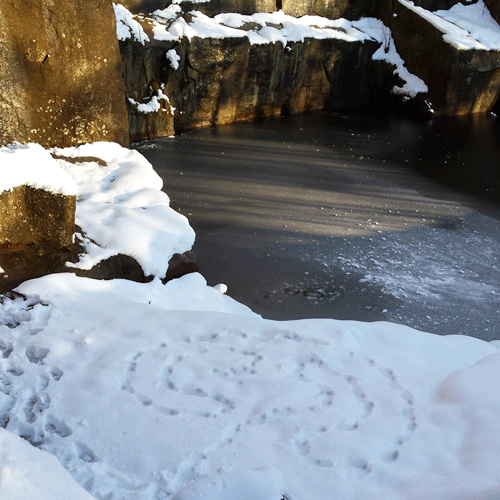 A teeny foot-labyrinth in an old frozen quarry, above a deep and dangerous pool.
Spoons, Kirkcaldy
2014
Celebrating Midsummer with a freeform labyrinth ducking beneath ripe plums! The area of Munch Labyrinths is sorely unexplored...
Shells, Anstruther
2014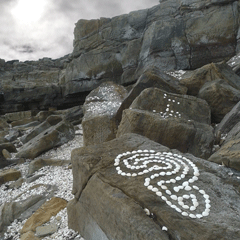 One for the sea fairies. This part of the beach was all shells. Who could resist?
Sand, Thurso
2013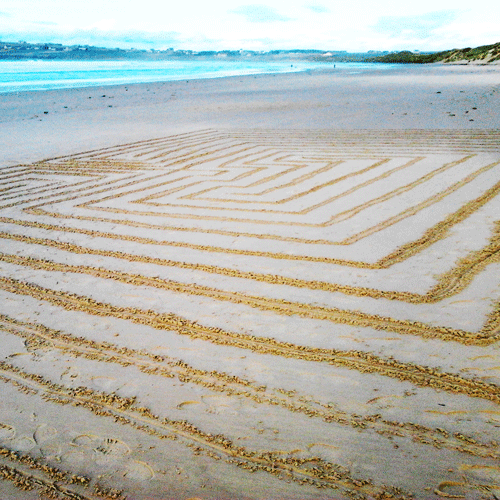 Hats off to Paul for this gigantic angular labyrinth on a deserted beach waaaaay Up North! Weirder still to continue on our ramblings, look back and find it a speck.
Chairs, Dundee
2013
A maze made in triple spiral (triskele) form from chairs, to provide an unusual layout while they were being sold off.
Sand Labyrinth, Tentsmuir
2013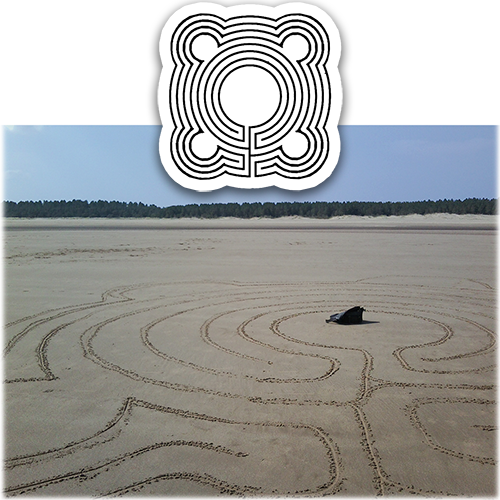 Large beaches are irresistible. Add bastions to your creations to wow your friends.
Turf, Dollar
2012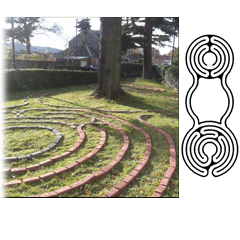 Commissioned for St James's Episcopalian church; the Trinity Labyrinth encloses a tree and lets you walk the lower portion, or the full whack.
Spoons, Kirkcaldy
2012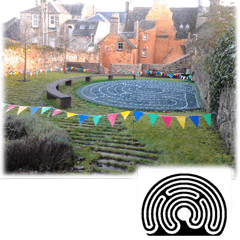 At the back of the Merchant's House, this labyrinth rounded off the day's retreat; wafts from the Chinese takeaway nearby meant rumbling tummies overtook the Oms.
Tape, Dunfermline
2012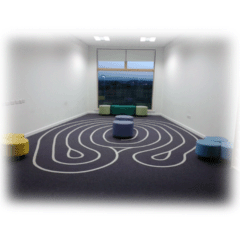 A masking tape labyrinth made for the Scottish Mental Health Arts Festival 2012, in a primary school. Note the teardrop lower ends; pop these into your creations for less jarring about-turns.
Turf, Falkland
2012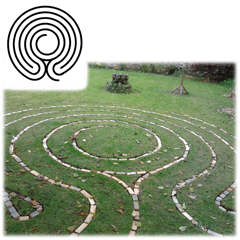 Laid out in the pine blocks provided by the owners, under a cherry tree; it looked most amazing from way up on the Lomond Hills.
Spoons, Bridge of Earn
2012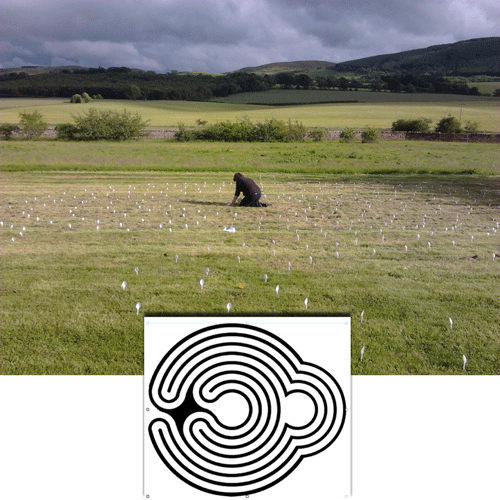 A Classical Labyrinth with two centres, to facilitate a day retreat honouring our dual natures. The Bump Labyrinth rocked.
Stone, Skye
2011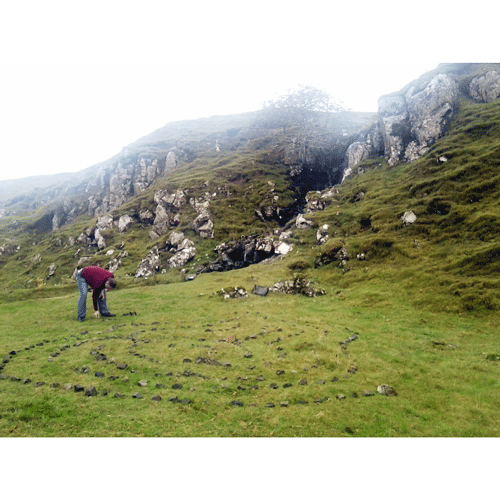 The Fairy Glen is traditionally a hatching place, in stone, of spirals and initials. Paul and me created a Brain Maze that a few months later was gone, evolved into other patterns.
Bead Finger Labyrinths
2011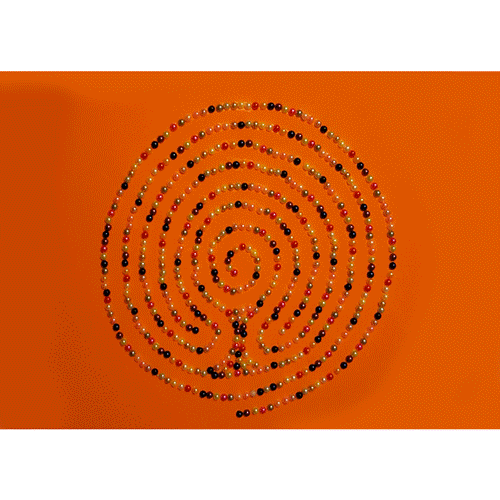 Here's another easy way to make finger labyrinths: with clear glue, attach beads to a surface in the design of your choice. Use craft foam sheets for backing for softness, or a glass pane for light-play.
Sand, Skye
2011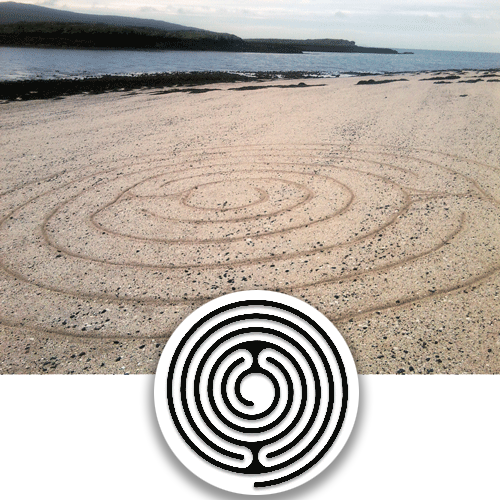 Coral Beach - a pure white top-sand with deep dark underneaths. Woof.
Tape, Bridge of Earn
2011
This whopping beast was to be outside, but the gales said No - so instead we did it inside and enjoyed by candlelight (drumroll) the Galaxy Labyrinth.
Spray paint, Dundee
2011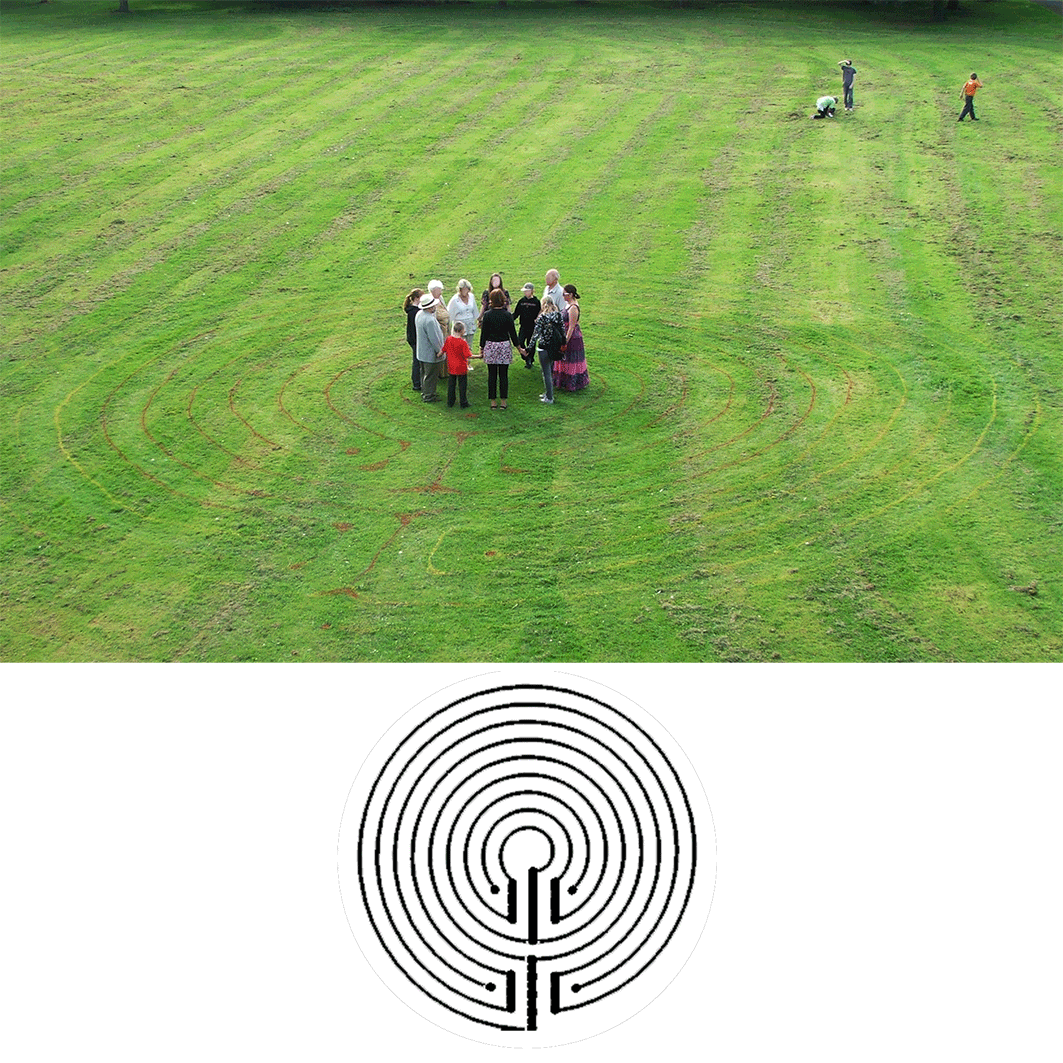 Commission to spray paint a labyrinth for an arts day in a Dundee park. Spray paint is fun; just practice pen-on-paper first. Mistakes are awkward.
Healing Labyrinths Retreat Day, Bridge of Earn
2011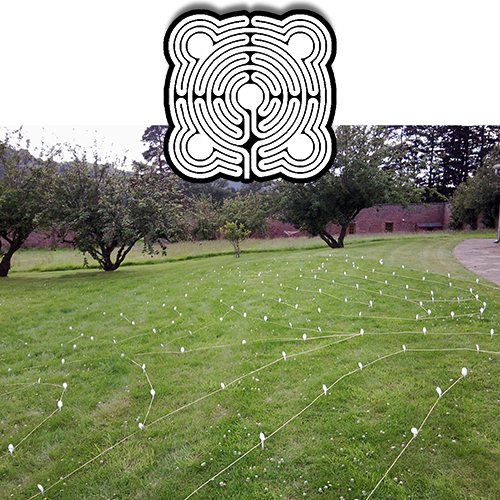 I used to use spoons with twine between them to make the walls, until several aching spines later discovered it was as quick to stick to spoons only. This Chartres-with-bastions is always a carnival.
Sand Labyrinth, Tentsmuir
2011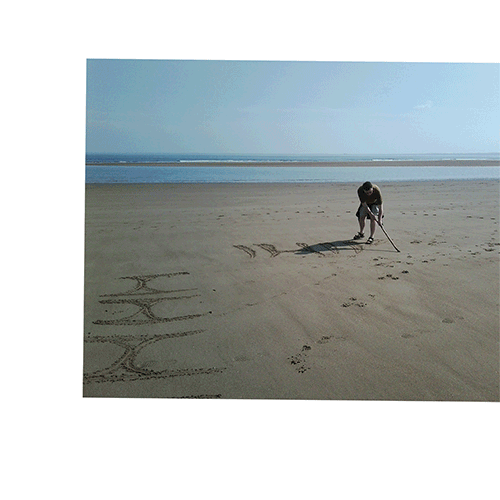 You can make a circular Reims in just ten minutes: ensure you've got the axes right, and join the loose ends. Details are in my books on the site. ('Ka-ching!')
Tape, Perth
2011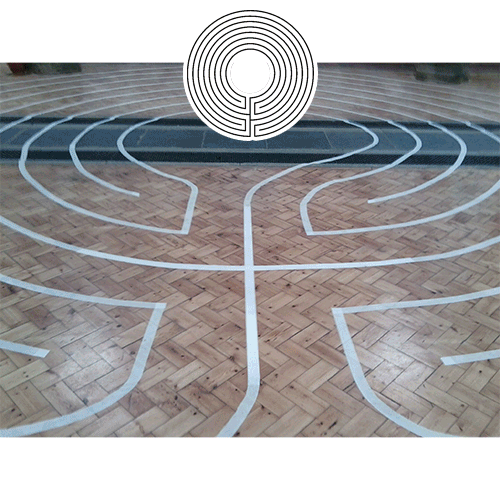 Perth Cathedral commissioned a simple Classical Labyrinth for a prayer weekend; if you're using masking tape ensure it's a low-adhesive type won't screw up floor varnish.
Rake, Drymen
2011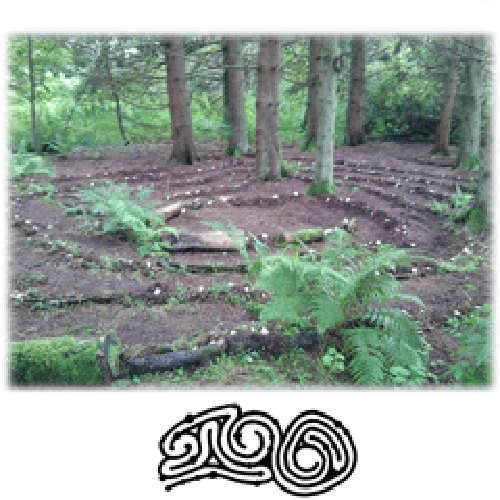 Sometimes nature dictates the shape. At Tir-na-nOg's pine grove a storm dropped some trees; so I ditched my design and let a land-dictated pattern evolve that totally took us into fairyland.
Marble Run Labyrinth
2010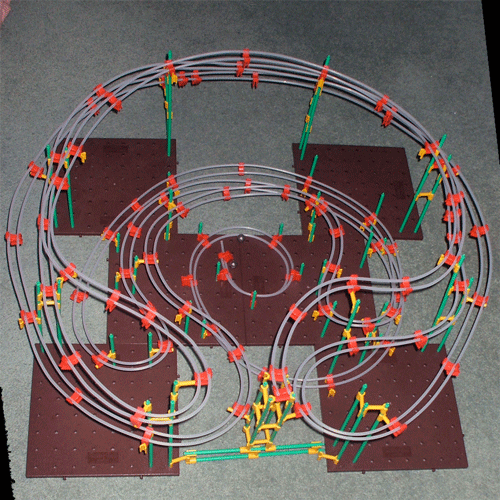 Yes, I play with marbles.
Rake, Drymen
2010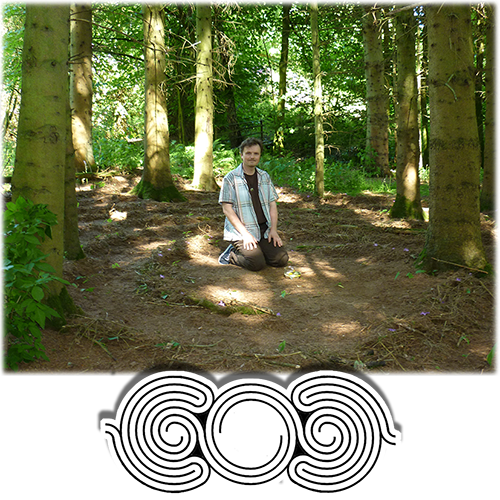 Sun, live clarsach music from Nettie Roberts, and a labyrinth coiling between the trunks like an unravelled bird's nest.
Sand, St Andrews
2009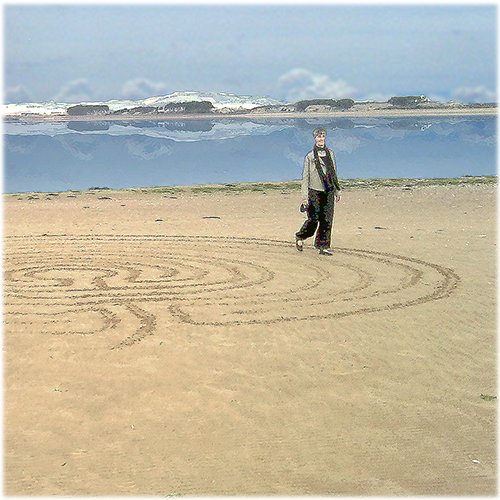 Here's my good friend Ruth modelling a slinky little Classical number that will go anywhere with anything, but especially impromptu soul-tonings on the beach.
Scoosh, Roome Bay
2009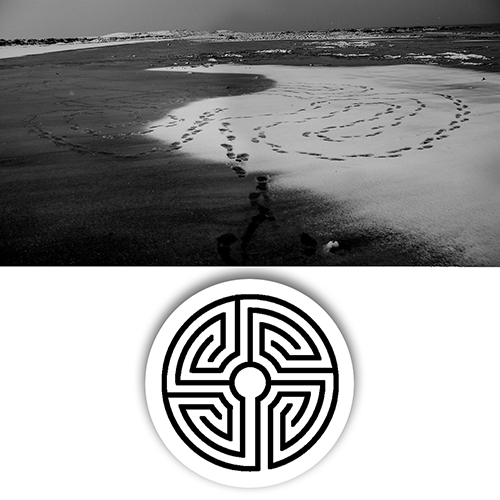 This was cool - being snowed in so I didn't have to go to my day job, and getting out to shuffle a Roman Labyrinth into a deserted cove.
Cheapie Water Gaze Labyrinth
2008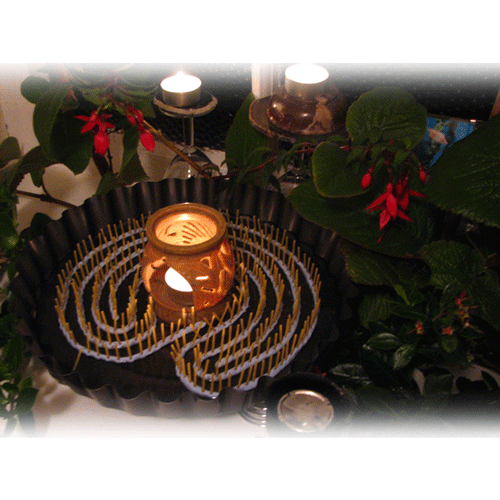 A simple project: baking tray, BluTack, spaghetti snapped to 1 inch pieces. Make a labyrinth, add 5mm water and a lit candle, and bask in the beauty while meditating / praying / headbanging / whatever you do.
Sand, Tentsmuir
2008
There are so many sand labyrinths on here; I've been lucky enough to have big beaches where so many patterns can be tasted. Apologies to the land-bound.
Paper 'Maze in a Box'
2007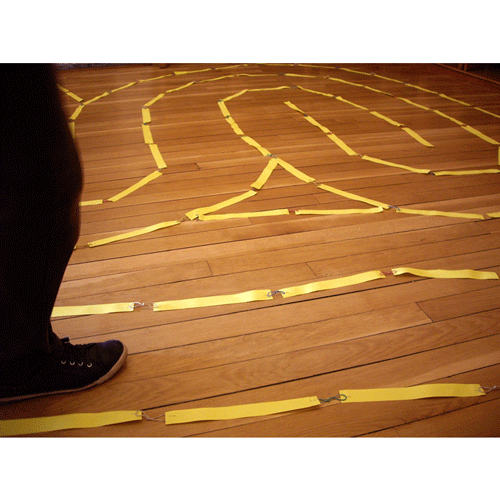 The Maze in a Box has been everywhere! Get a ream of A4 paper, cut each sheet into 5 long strips, staple a rubber band to each strip end to form chains. Viola! You're armed to make indoor magic. Use BluTack to stick to floor.
Bamboo Labyrinth, Parkerville, Western Australia
2006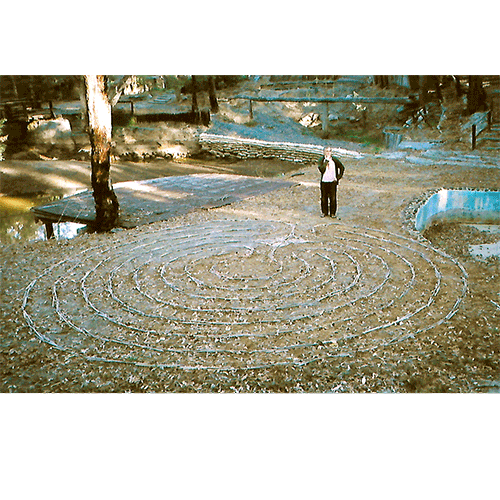 Me and Peter Roden goofing in a bamboo labyrinth I made while he was living at Parkerville Auditorium. Each night ducks and kangaroos would rearrange the design. Or was it yowies?
Turf, Trossachs
2005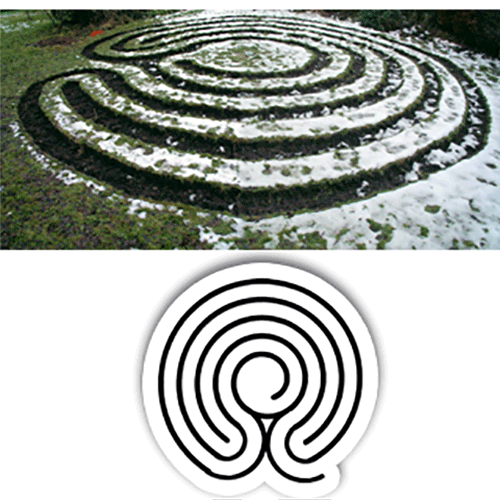 A birthday gift, finished (more by luck than design) to the exact Winter Solstice. Digging turf is hard work btw; watch your back. And make the paths lawnmower-width or it's doomed...
Raked Path Maze, Tir-na-nOg
2004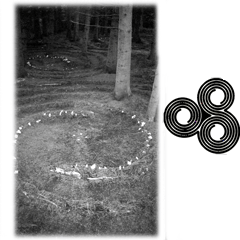 The trispiral maze famed from Newgrange was here interfered with, rectangularized, and fitted into the pine grove for at Tir-na-nOg for this weekend. Fresh flowers lined the three centres.
Medicine Labyrinth, Lendrick Lodge
2004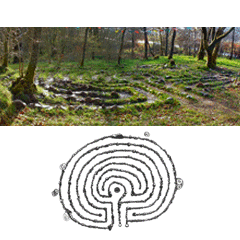 Made from 'soul stones' from the Sweat Lodge, I send healing each when I lived at the centre, and it's still there today with its witch hazel at the centre.
Turf, Dunbar
2000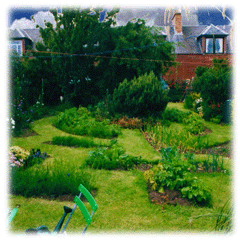 As a homeowner the greatest benefit is making a maze from your garden.
Dream Labyrinth
1984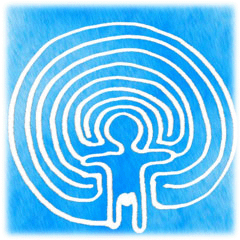 Labyrinths and mazes will creep into your dreams, if they're not there already. This pic is what I drew after a dream that started me on this journey.